Posts for: July, 2021
By Barbara Preussner, DMD
July 14, 2021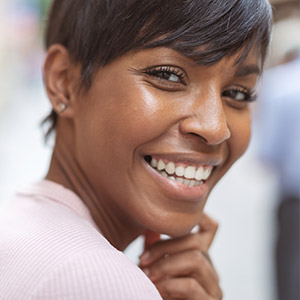 Dental veneers are a popular way to improve teeth with chips, stains, gaps or other defects. They're typically made of dental porcelain, ceramic-like materials prized for their ability to mimic the texture, color and translucency of natural teeth.
But dental porcelain doesn't come in one form—a dentist can utilize variations of it to better match a patient's need. For example, one patient may need a porcelain with added strength, while another may need one that provides better coverage of underlying discoloration.
The foundational materials for veneer porcelain are glass ceramics. Also used for crowns, glass ceramics have been the preferred choice of dentists for some time to achieve life-like results. In terms of veneers, dental technicians first mix the powdered form of the porcelain with water to create a paste. They then use the paste to build up the body of a veneer layer by layer.
But while the high degree of silica (glass) in this type of porcelain best resembles the translucence of natural teeth, early forms of it lacked strength. This changed in the 1990s when technicians began adding a material called leucite to the ceramic mixture that enhanced its strength and durability.
Today, you'll also find lithium disilicate used, which is twice as strong as leucite and is quite useful when creating thinner veneers. Both of these strength materials can be pressed and milled into shape, which helps achieve a more accurate fit. Along with the underlying glass ceramic, the result is a veneer that's both durable and incredibly life-like.
Although today's porcelain veneers are far superior in durability than earlier forms, they can be damaged when biting down on hard objects. To make sure your veneers last as long as possible, you should avoid biting down directly on hard-skinned fruit, or using your veneered teeth to crack nuts or crunch ice (or any other teeth, for that matter).
But with proper care, today's veneers have exceptional longevity. And, thanks to the superior dental materials that compose them, they'll look great for years.
If you would like more information on dental veneers, please contact us or schedule an appointment for a consultation. You can also learn more about this topic by reading the Dear Doctor magazine article "Porcelain Veneers: Your Smile—Better Than Ever."
By Barbara Preussner, DMD
July 04, 2021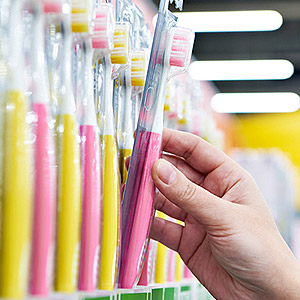 If you think there's not much difference between toothbrushes, a quick look on a retail oral care aisle might change your mind. About the only thing toothbrushes really have in common are a handle and bristled head.
Choosing the right toothbrush, therefore, might seem overwhelming. But choose you must: Your toothbrush is an essential tool in the fight against tooth decay and periodontal (gum) disease. Without it, your odds for developing dental disease skyrocket.
Along with flossing, brushing is the best way to remove daily plaque buildup, that bacterial film most responsible for dental disease. Brushing also minimizes the buildup of tartar, the hardened form of plaque that's just as harmful as softer plaque. And, brushing stimulates your gum tissues to help prevent or lessen inflammation.
But back to all those brushes—with so many options to weigh, how do you come up with your best choice? Actually, there are some basic tips that can help you narrow things down.
Bristle stiffness. Considering other cleaning chores, you might think you'll need a stiff brush. The opposite—a soft-bristled brush—is usually true. Your toothpaste's mild abrasives and the mechanical action of brushing perform most of the plaque removal. And stiffer brushes could irritate and damage your gums or tooth enamel, leading to bigger problems.
Size and shape. Through a little trial and error (and advice from your dentist), you may find a brush with an angled or tapered neck helps you get into difficult places, especially around the back teeth. If you have problems with grip, you may also opt for a brush with a large diameter handle. Bottom line: Choose a brush you feel comfortable handling.
ADA Seal of Acceptance. Common on dental product packaging, this seal indicates that after rigorous testing the item meets the high standards of the American Dental Association, and that it does what the packaging says it does. Even so, some quality brushes don't have this seal, so ask your dentist their opinion on a particular brand.
There's one more critical component—how well you use your toothbrush. For that, ask your dentist or hygienist for tips on better brushing. Combining the right brush and technique goes a long way toward avoiding dental disease.
If you would like more information on choosing the right toothbrush for you, please contact us or schedule an appointment for a consultation. You can also learn more about this topic by reading the Dear Doctor magazine article "Sizing Up Toothbrushes."