Posts for: June, 2021
By Barbara Preussner, DMD
June 14, 2021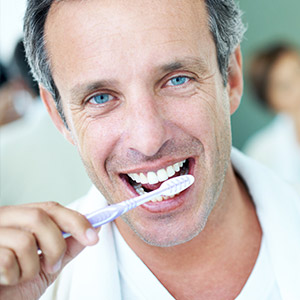 Your teeth can take decades of daily biting and chewing and not miss a beat. But they do have a nemesis, dental disease, which can easily get the upper hand. As a result, millions of people lose teeth each year to tooth decay and periodontal (gum) disease.
But while both the living tissue that makes up teeth and gums are susceptible to bacterial attack, the non-living materials in a life-like dental implant are impervious to disease. That being the case, you would think your implants wouldn't need as much hygiene as your other teeth.
But they still do. True, implants in themselves aren't affected by infection, but the bone and other tissues that support them can become diseased. This often happens with advanced cases of gum disease.
There is, in fact, a particular form of gum infection associated with implants called peri-implantitis ("peri"—around; "it is"—inflammation), which occurs in the gums around an implant. Once it starts, peri-implantitis can advance at a rapid pace.
This is because implants don't have the gum attachment of real teeth, which can fight and slow the advance of a gum infection. Because an implant doesn't have this attachment, any infection around it continues virtually unimpeded. If the bone supporting an implant becomes infected, it can weaken to the point that the implant fails.
But this dire scenario can be avoided with continuing hygiene and maintenance of the gum tissues surrounding the implant. You should brush and floss every day around implants to remove dental plaque, the bacterial film most responsible for dental disease, just as you do with natural teeth.
It's also important to keep up regular dental visits for cleanings to remove lingering plaque and tartar (hardened plaque). Your dentist may also notice and clean away any residual cement from the restoration, which can also cause gum inflammation.
And, you should promptly see your dentist if you notice any telltale signs of a gum infection, such as swelling, redness or bleeding, especially around implants. The quicker we diagnose and treat a case of gum disease, particularly peri-implantitis, the less likely it will endanger your implant.
If you would like more information on maintaining dental implant restorations, please contact us or schedule an appointment for a consultation.
By Barbara Preussner, DMD
June 04, 2021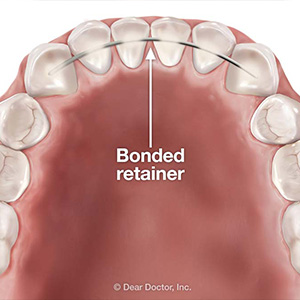 For some, the excitement over their braces coming off gets dampened a bit with the prospect of now having to wear a retainer. But it has to be—newly realigned teeth have a tendency to revert to their previous positions out of a kind of "muscle memory." A retainer prevents that from happening.
But as essential as it is, the standard retainer is almost as noticeable as braces, a major reason why many patients are less than enthusiastic about wearing them. And, because it's common for them to become lost when out of the mouth, replacing one becomes an added expense.
But there's another option—the bonded retainer. This retainer consists of a metal wire bonded to the back of the teeth to prevent them from moving. Because it's fixed in place, only a dentist can remove it.
The bonded retainer addresses the previous two issues associated with a removable retainer. Because it's behind the teeth rather than in front, it's out of sight to others. And, because it's fixed in place, there's no danger of losing it.
But unlike its removable cousin, which can be taken out for oral hygiene, the bonded retainer can make flossing more difficult. And, by nature, a bonded retainer must be worn all the time; a removable retainer allows for a more flexible schedule later in the treatment of a few hours a day.
So, which retainer option is best for you or another family member? A bonded retainer may be more attractive for appearance's sake, if it must be worn indefinitely, or if there's a high probability of the teeth moving out of alignment. And, it might be the right choice where there's a concern about a patient's ability to keep up with a removable retainer.
If you do decide to go with a bonded retainer, ask your dental hygienist for training on using floss with the fixed appliance—this can help improve oral hygiene. Whatever you choose, bonded or removable, your retainer will help you keep that new, beautiful, straightened smile.
If you would like more information on orthodontic retainers, please contact us or schedule an appointment for a consultation. You can also learn more about this topic by reading the Dear Doctor magazine article "Bonded Retainers."