Posts for: January, 2021
By Barbara Preussner, DMD
January 15, 2021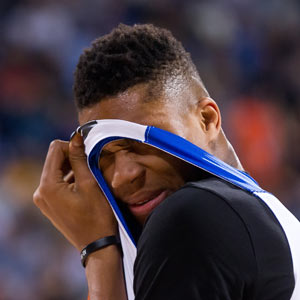 The NBA's reigning MVP Giannis Antetokounmpo may seem unstoppable, but he proved no match for a troubled tooth. Antetokounmpo, the self-proclaimed "Greek Freak," missed one of the final three 2020 regular season games for a dental issue that resulted in last-minute oral surgery. According to a Milwaukee Bucks spokesperson, the star underwent "a root-canal like procedure."
Root canal therapy, often simply called "a root canal," may be needed when there is an infection inside the tooth. When dental pulp becomes inflamed or infected, excruciating pain can result. Pulp is the soft tissue that fills the inside of the tooth. It is made up of nerves, blood vessels and connective tissue. During root canal treatment, the pulp is removed, the space inside the tooth is disinfected, it is filled with a special material, and then the hole is sealed up.
A root canal is nothing to fear. It relieves pain by getting rid of infection and is so effective that over 15 million of them are performed in the U.S. each year. This routine procedure generally requires only local anesthetic, and your mouth should be back to normal within a day or two after treatment. Antetokounmpo can attest to that, as he returned to play the next day.
However, delaying root canal treatment when you need it can have serious consequences. If left untreated, an infection inside the tooth continues to spread, and it may move into the gums and jaw and cause other problems in the body. So, how do you know if you may need a root canal? Here are some signs:
Lingering sensitivity to hot or cold temperatures. One sign of nerve damage inside your tooth is pain that is still there 30 seconds after eating or drinking something hot or cold.
Intense pain when biting down. You may feel pain deep within your tooth, or in your jaw, face or other teeth. The pain may be hard to pinpoint—and even if it improves at times, it usually comes back.
A chipped, cracked or discolored tooth. A chip or crack can allow bacteria to enter the tooth, and the tooth may darken if the tissue inside is damaged.
A pimple on the gum. A bump or pimple on the gum that doesn't go away or keeps coming back may signify that a nearby tooth is infected.
Tender, swollen gums. Swollen gums may indicate an infection inside the tooth or the need for periodontal treatment.
And sometimes there is no pain, but an infection may be discovered during a dental exam.
Tooth pain should never be ignored, so don't put off a dental visit when you have a toothache. In fact, if a bad toothache goes away, it could mean that the nerves inside the tooth have died, but the infection may still be raging. Also, be sure to keep up with your regular dental checkups. We may spot a small problem that can be addressed before it becomes a bigger problem that would require more extensive treatment.
Remember, for dental issues both large and small, we're on your team! If you would like more information about tooth pain, please contact us or schedule a consultation. To learn more, read the Dear Doctor magazine articles "Tooth Pain? Don't Wait!" and "Root Canal Treatment: What You Need to Know."
By Barbara Preussner, DMD
January 05, 2021
During this time of year, many of us dust off traditional family recipes and make our favorite holiday treats. There is, however, a small price to pay for all that nostalgic goodness in the shape of a few extra pounds to deal with in the new year. We may also be increasing the risk for something even more unpleasant: tooth decay.
The main cause, of course, is a certain carbohydrate integral to many holiday goodies: sugar.  We humans love it, but so do oral bacteria that readily devour any sugar lingering in our mouth after eating. This fuels bacterial reproduction, which in turn increases the production of acid that softens tooth enamel.
There are a number of strategies you can follow to reduce this effect. You can remove sugar completely from your holiday preparations—and risk family and friends "voting you off the island." Or, you can try these tips for easing the impact of holiday sugar on your dental health.
Look for ways to reduce sugar. Just because you're not throwing the sugar bowl out the window doesn't mean you have to go all out using it. Instead, try to modify older recipes (or look for newer versions) to decrease the amount of sugar in candies and baked goods. You may also consider alternative sweeteners like sucralose that tolerate high baking temperatures.
Balance savory with sweet. Not all holiday treats need to be sweet—you can add items that take advantage of more savory seasonings. For example, try offering up popcorn with a sprinkling of cinnamon or other holiday spice, or a creative assortment of cheeses (which in turn promote saliva flow to neutralize acid).
Combine treats with mealtimes. Continuous snacking may be part of the holiday tradition, but it can also raise the risk for tooth decay. Acidity increases when we eat, but saliva normally neutralizes it within thirty minutes to an hour. However, saliva can get overwhelmed during continuous snacking, resulting in longer periods of high acidity that damages tooth enamel. Instead, try to combine snack times with mealtimes.
Don't neglect your oral hygiene. Even though things can get hectic during the holidays, make a point of keeping up daily brushing and flossing. Regular hygiene keeps dental plaque, a thin film of harmful bacteria and food particles (including sugar), from building up on your teeth. Reducing plaque lowers your overall decay risk. Attention to oral health through your day-to-day dental hygiene routine along with regular professional cleanings and checkups is the best thing you can do to avoid dental disease.
The holidays should be a joyous time for you and your family. They can also be a healthy time for your teeth and gums, if you minimize the role of sugar in your holiday treats.
If you would like more information about boosting your dental health, please contact us or schedule a consultation. To learn more, read the Dear Doctor magazine articles "Nutrition & Oral Health" and "The Bitter Truth About Sugar."