Posts for: June, 2018
By Barbara Preussner, DMD
June 20, 2018
Even with picture perfect teeth, you may still be unhappy with your appearance. The problem: too much of your upper gums show when you smile.
There's no precise standard for a "gummy smile"—it's often a matter of perception. As a rule of thumb, though, we consider a smile "gummy" if four or more millimeters of upper gum tissue show while smiling. In any event if you perceive you have a gummy smile, it can greatly affect your self-confidence and overall well-being.
The good news is we can often correct or at least minimize a gummy smile. The first step, though, is to find out why the gums are so prominent.
There are a few possible causes: the most obvious, of course, is that there's more than normal gum tissue present. But the cause could be the front teeth didn't fully erupt in childhood and so the gums appear more prominent. Other causes include the upper lip moving too far upward when smiling (hypermobile) or an elongated upper jaw that's out of proportion with the face.
Finding the exact cause or combination of causes will determine what approach we take to minimize your gummy smile. If too much gum tissue or not enough of  the teeth show, we can use a surgical procedure called crown lengthening to expose more of the crown (the visible part of a tooth), as well as remove excess gum tissues and reshape them and the underlying bone for a more proportional appearance.
A hypermobile upper lip can be treated with Botox, a cosmetic injection that temporarily paralyzes the lip muscles and restricts their movement. But for a permanent solution, we could consider a surgical procedure to limit upper lip movement.
Surgery may also be necessary for an abnormal jaw structure to reposition it in relation to the skull. If, on the other hand it's the teeth's position and not the jaw causing gum prominence, we may be able to correct it with orthodontics.
As you can see, there are several ways varying in complexity to correct a gummy smile. To know what will work best for you, you'll need to undergo an orofacial examination to determine the underlying cause. It's quite possible there's a way to improve your smile and regain your self-confidence.
If you would like more information on improving a gummy smile, please contact us or schedule an appointment for a consultation. You can also learn more about this topic by reading the Dear Doctor magazine article "Gummy Smiles."
By Barbara Preussner, DMD
June 10, 2018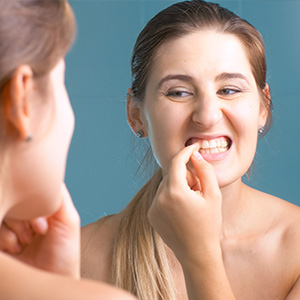 It takes only a few days of inadequate oral hygiene for bacterial plaque to trigger the periodontal (gum) disease gingivitis. Though sometimes subtle, there are signs to watch for like inflamed, reddened or bleeding gums.
Untreated gingivitis can develop into more advanced forms of gum disease that infect deeper levels of the gums and supporting bone and ultimately cause bone and tooth loss. Fortunately, though, prompt treatment by a dentist removing plaque from teeth and gums, along with you reinstituting daily brushing and flossing, can stop gingivitis and help restore health to your gums.
If you're under acute stress or anxiety, however, basic gingivitis can develop into something much more serious and painful, a condition called Acute Necrotizing Ulcerative Gingivitis (ANUG). It's also known as "trench mouth" from its common occurrence among World War I soldiers experiencing stressful periods in front line trenches without the means for proper oral hygiene.
ANUG develops from a "perfect storm" of conditions: besides anxiety and deficient hygiene practices, ANUG has a high occurrence risk in people who smoke (which dries the mouth and changes the normal populations of oral bacteria) or have issues with general health or nutrition.
In contrast to many cases of basic gingivitis, ANUG can produce highly noticeable symptoms. The gum tissues begin to die and become ulcerative and yellowish in appearance. This can create very bad breath and taste along with extreme gum pain.
The good news is ANUG can be treated and completely reversed if caught early. In addition to plaque removal, the dentist or periodontist (a specialist in the treatment of gum disease) may prescribe antibiotics along with an antibacterial mouthrinse to reduce bacteria levels in the mouth. A person with ANUG may also need pain relief, usually with over-the-counter drugs like aspirin or ibuprofen.
It's important that you seek treatment as soon as possible if you suspect you have ANUG or any gum disease. It's possible to lose tissue, particularly the papillae (the small triangle of tissue between teeth), which can have an adverse effect on your appearance. You can also reduce your risk by quitting smoking, addressing any stress issues, and practicing diligent, daily oral hygiene and visiting your dentist for cleanings and checkups twice a year or more if needed.
If you would like more information on the signs and treatments for gum disease, please contact us or schedule an appointment for a consultation. You can also learn more about this topic by reading the Dear Doctor magazine article "Painful Gums in Teens & Adults."